Latitude25 Roving RV Helps Break World Record with the Largest Parade of Camping Vehicles
Event raises funds for local drought-affected communities
On May 26th Latitude25 participated in breaking a World Record for the largest parade of camping vehicles. Hosted by Australia's Motorhome Lions Club (AMLC), the five-day event called The Longest Line, took place in Barcaldine, QLD, with the aim of breaking a world record and raising funds for local drought affected communities.
Under the proviso that all vehicles (Motorhomes, Caravans, Campervans, Fifth Wheelers) be in motion along the road when the count took place, the event assembled a convoy of 857 Grey Nomads for nine kilometres – breaking the previous world record.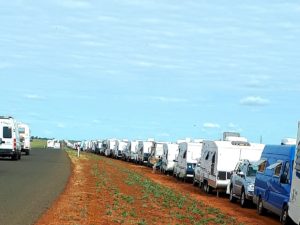 The former world record for the largest parade of camping vehicles was set in Canelli, Italy with 672 camping vehicles in 2003.
"The logistics of getting 857 RVs out and lined up was handled pretty well by the organisers and we ended up about 20kms out of town and number 396 RV in the line – What a buzz!" said Dawnie Boss-Walker, Latitude25 RV driver.