Finding the right fit for an unusual downsizer
When Canberra natives Geoff and Raelee Barrett started looking at "downsizing" it came with an unusual caveat. Though they wanted to downsize their home and move to a milder climate, they also had two 20-ft containers that needed to come with them.
Their son-in-law had the answer – the Latitude25 Community in Hervey Bay. With their signature oversized garage feature, which is usually used for caravans, the home designs at Latitude25 provided the perfect solution.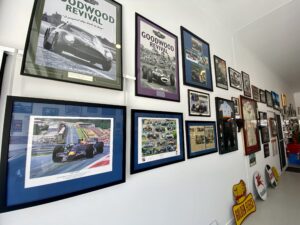 The Barrett's were able to use this ample space to house Geoff's unique collection including a 1960 XK150S Jaguar 2-door (model before E type) in Old English White and a 1971 Morris Cooper S in British Racing Green with white roof.
These beauties don't sit around gathering dust though. Since 1981 the Barrett's drive regularly in rallies including five Targa Tasmania rallies (one in the Morris and four with the Jaguar).
Geoff's collection also includes three antique petrol bowsers with coloured globes sporting the brands such as BP and Shell, vintage posters, Australian former professional racing driver Mark Webber memorabilia plus a large collection of old-style glass oil bottles that were used in service stations from 1920-1950s.
Practicing Sustainability – before it was a Buzz Word
"These days, the bottles are plastic and thrown away. As a 17-year-old I worked at a service station for $1 per hour and it was one of my jobs to clean those glass bottles and put them back to be reused. This is back when you actually serviced customers' cars, pumped the petrol, and checked their oil and tyres," said Geoff.
The couple have given many tours of their collection and it's been a great way to bring people together for social catch ups.
Why Latitude?
In addition to the perfect space for their large collection, Latitude25 was the ideal lifestyle location to relocate to as their daughter and her family lived in the Hervey Bay area. The Barrett's had visited them many times since 2004 and felt confident this would be a great place to move for a kinder climate. Due to COVID and recovering from illness, Geoff and Raelee ended up doing the bulk of their research online on the Latitude25 website. They picked out a house plan, the Earhart Design, which is one of the biggest designs, and with the help of their son-in-law, who was local, picked the perfect position for their home. The Barrett's were able to make the journey to Queensland in between lockdowns to see their future home firsthand in July 2020 and eventually moved in 17 March 2021.
Getting into the Groove
Geoff and Raelee are enjoying the social activities, countless amenities available in the lifestyle community and frequently attend the organised events in the Clubhouse. Raelee enjoys a dedicated room in her home for her crafting hobby and has also found a group to share that passion, at Latitude25.
"We love that the community is so clean and organised and we are finding a great group of people who are like minded and here to have a good time."
This was especially evident with the Friday night raffles (FNR), which Geoff is also involved in, where the winner of the meat tray ended up hosting an impromptu street BBQ on the Saturday night.
"That wouldn't happen just anywhere. It's so easy and casual. Our neighbour volunteered the meat tray, and the rest of the neighbours just came with drinks and chairs."
The Barrett's are also complimentary of the Management team whom they find helpful and receptive.
"When the community decided to raise funds for an air compressor for tyre checks in the Caravan Wash Bay, the Management team went halves in the cost."
Sustainability in 2022
Most recently, Geoff has taken the lead on the "Containers for Change" within the community that raises money from bottles and cans from residents' homes and events to put back into the community with items they may need. Containers for Change offers 10c per bottles and cans and now includes 11 large wheelie bins at the Hobby Shed.
The program has had a great response, and everyone has pitched in. The funds raised go back into the community and so far, have funded a set of cups and saucers, microwave, and toaster for the Clubhouse. Plus, the newly added suggestion box means residents can share what else the funds can be used for in the future. Overall, it's a great encouragement for sustainability and giving back to Mother Earth.
Overall, the Barrett's are enjoying the ability of downsizing their lives without giving up their one slightly oversized collection. And, now it's even better with the added benefit of even more family moving to the area. Latitude25 has been the perfect fit of home and lifestyle.