Staying active in your senior years can provide many health benefits. In particular, yoga is a wonderful option to consider if you're a senior who wants to stay active and flexible without muscle strain.
Why Should Seniors Do Yoga?
The benefits of yoga for seniors include increased muscle tone, balance (which is particularly important), strength and improved mood. One can also expect posture to improve and better sleep quality.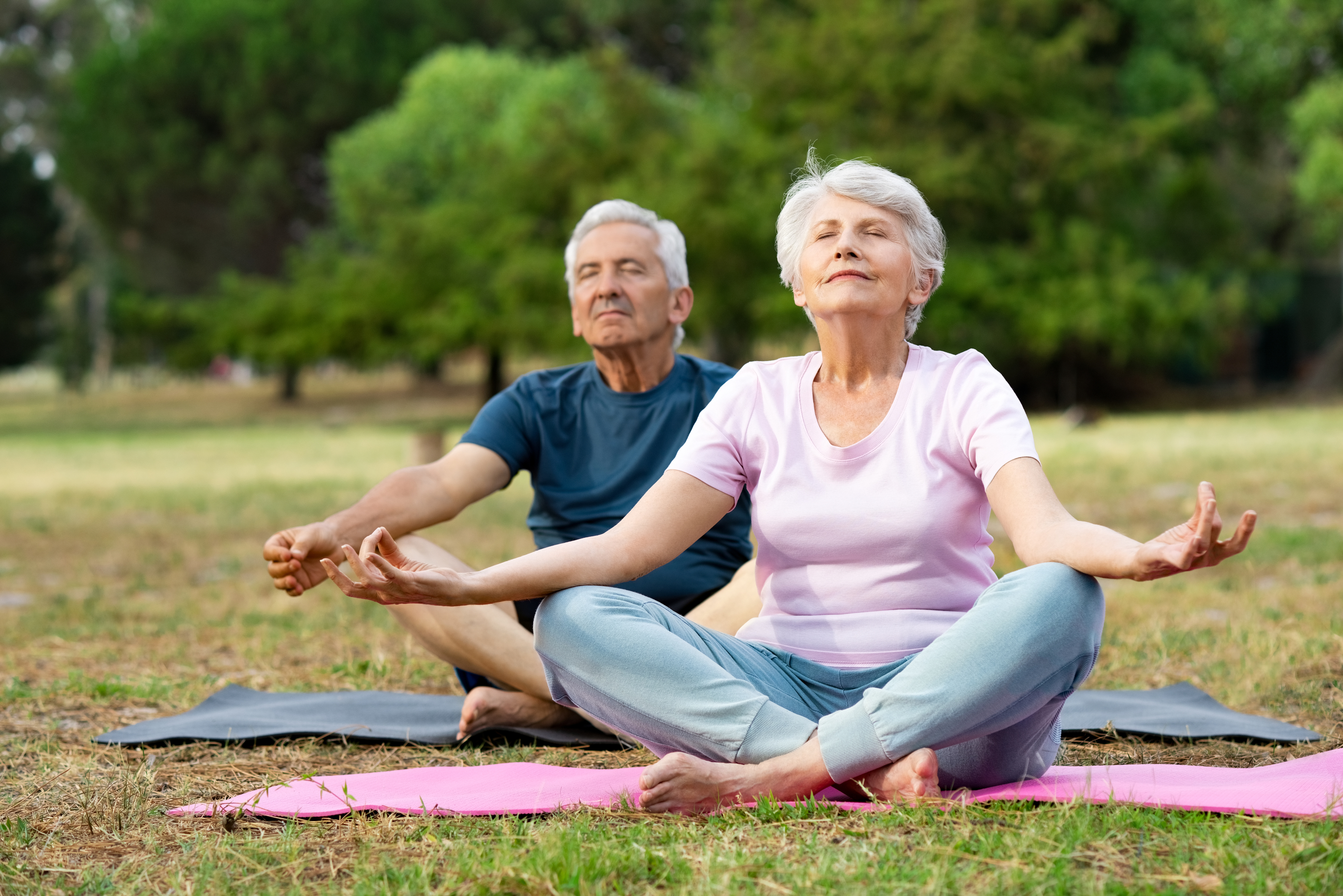 Details of the benefits of yoga include:
Minimised high blood pressure – Statistics show that more than 60% of men and women over the age of 65 are dealing with high blood pressure. Instead of medication to keep their numbers down, practising yoga can also help. Controlled breathing done through the various yoga poses decreases nervous system activity which in turn helps to manage blood pressure levels.
Strengthening of bones– Osteoporosis is a concern for many women as they age. Weight-bearing activities that are done through yoga poses can help strengthen bones and reduce the risk of brittle bones.
Shedding pounds- Keeping weight in check can help to avoid diabetes and other health problems. Yoga can help to burn fat and build muscle at any age.
Improving balance– As we get older, preserving balance is paramount. Yoga helps people to improve and maintain balance through its variety of poses.
Reducing Stress & Improving Mood– Yoga can help to reduce stress through the mindful breathing and meditation it offers. Yoga also causes your brain to release mood-altering chemicals that can make you feel good and ward off feelings of depression.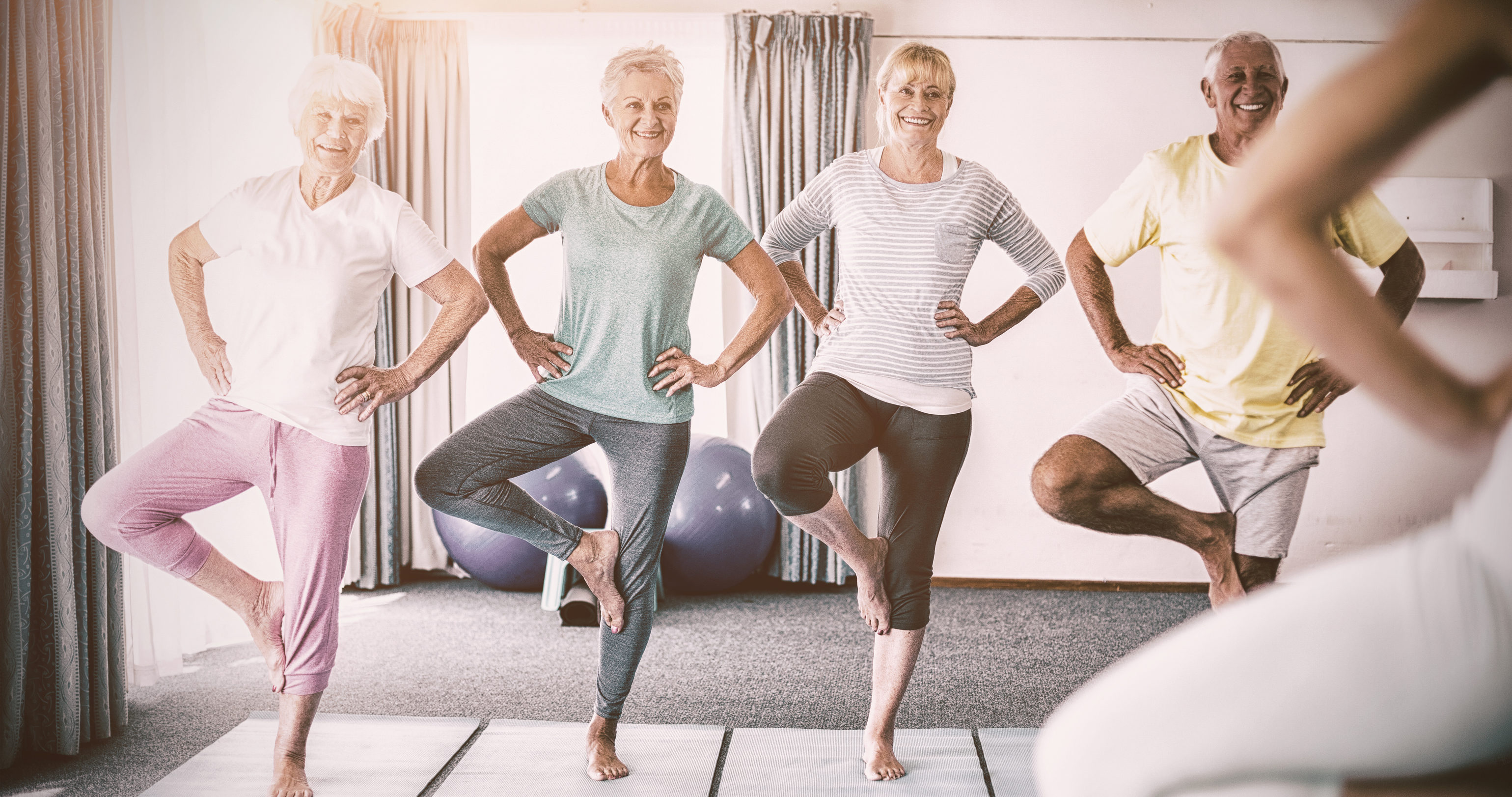 What are the Best Types of Yoga for Seniors?*
There are many different types of yoga if you're interested in learning more as you start your practice. Here are a few of the most common:
Hatha Yoga– Any yoga that teaches physical posture is considered hatha yoga. Hatha yoga classes will give you an introduction to basic poses.
Vinyasa Yoga– A series of fluid movements is common in Vinyasa classes. These classes will keep you moving from pose to pose. Gentle music is usually played to provide a calming atmosphere.
Ashtanga Yoga– Each breath is linked to a movement in Ashtanga Yoga. These classes are usually repetitive with poses done in the same order.
Bikram Yoga– Bikram yoga classes are held in studios where the heat is turned up. These classes are not for the faint at heart as you will sweat profusely as you move from pose to pose.
Restorative Yoga– Restorative yoga focuses on passive poses to help relax the body. Many times blankets and blocks are used.
Chair Yoga– This is geared towards people who may not be able to stand for long periods of time or do the exercises on a floor mat. Poses are modified using a chair for support.
Water Yoga– Many of the same poses that are done on a mat are done in the water. Some seniors prefer this method because it is low-impact and can help with joint pain.
(*Source: https://www.seniorliving.org/life/active-senior/exercise/yoga)
Learn the benefits of yoga for yourself and come along to Latitude25's Get "Zen"tred with Yoga event to be held at 9:00am Thursday 20th of February. The Get "Zen"tred event includes a 60 minute yoga session with Jess from Ocean Tree Yoga and a healthy morning tea. Register your interest now by clicking here at or call 1800 025 025.