Responsible landscaping is expected these days and Latitude25 is no exception. When planning this exclusive lifestyle gated community, Latitude ensured the inclusion of environmentally conscious landscaping design that works with Mother Nature to provide the best sustainable and beautiful surroundings.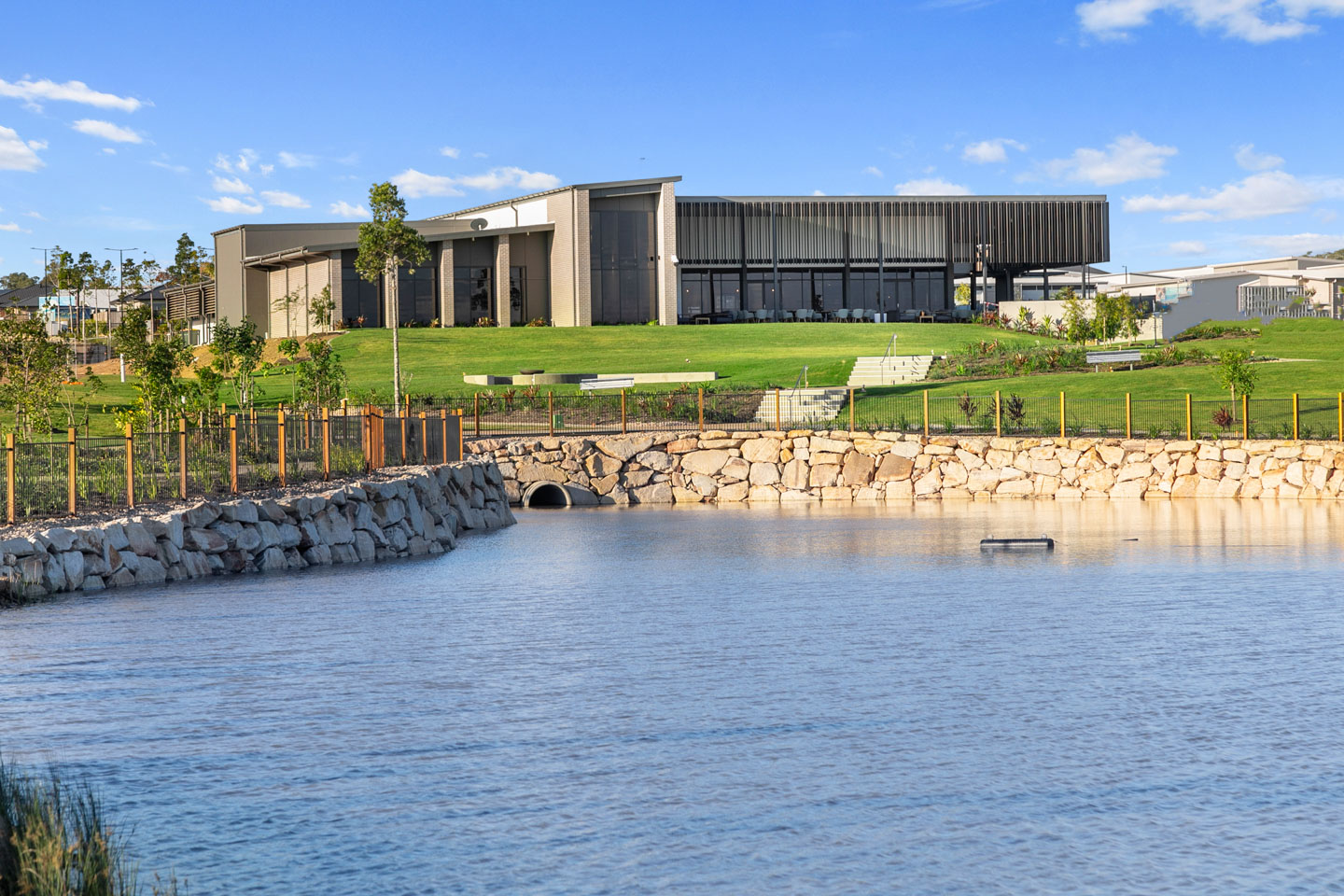 Environmentally Conscious Landscaping addresses the responsible use of water in its two beautiful lakes that hold approximately 5 million litres of storm water, at capacity. This clever water-wise, environmentally friendly system was constructed by the Latitude25 landscaping team and assists in the upkeep of the lush landscaped areas.
All rainwater is captured through storm water systems and channeled into a bio basin, which removes the nitrates, sediment and rubbish, and then is released into our holding lakes. This is aided by plants in the base of the bio basin that soak up the nitrates which in turn helps with algae bloom. The plants around the lake's edge also help to filter the standing water in the lakes and keep it clean.
Keeping the community lush and green, the landscaping team receives daily reports on irrigation to monitor blockages or bursts to maintain consistent watering levels and diagnose problems. The irrigation systems throughout the community are serviced by the lakes and are controlled and monitored by a software program and phone app to control water flow and irrigation schedules, which are fully automated and controlled by satellite.
Smart Landscaping
When it comes to the actual planting around the community, the landscaping philosophy of Latitude25 promotes the use of local endemic species, which means the plants that are native to the area. In addition, the landscaping team grows the plants in an on-site nursery, which ensures the best success as the plants are climatised to this area. The team also blends all its own potting mix, garden soil and top-soil on site at Latitude25.
When you are taking in the beautiful landscaped surroundings you will find plants that have been selected to protect and promote our local fauna. These include Kauri Pines (Agathis Robusta); Golden Penda's (Xanthostemon Chrysanthus); Tuckeroos (Cupaniopsis Anacardioides); Palm (Livistona Australis); Lomandra Longifolia; Lilly Pilly's; Bangalow Palms (Archontophoenix Cunninghamiana); and Pigface (Carpobrotus Glaucescens).
Fun Fast Facts
This landscaping labour of love has included, to date:
Number of rehomed trees*: 44
Number of trees planted: 1,248
Shrubs & ground covers 32,583
Revegetation species** 28,451
(*Mature tree replanted from other areas where they might otherwise have gone to waste)
(** Revegetation is the process of replanting and rebuilding the soil of disturbed land)