When Pat and Sue Hegarty decided to look at retirement, they weren't just looking at a new town or home, it was a complete change of lifestyle to the polar opposite of their 34,000-acre sheep station located between Longreach and Winton, QLD.
Pat was born, raised and worked the sheep station for 60 plus years. Along the way his wife Sue, a Newcastle native, whom he met while she was a governess in the area, married and raised a family on the acreage. With the nearest town located 140 km away making appointments, shopping and even going on holiday was a major expedition. When it came time to decide the succession of the farm, the drought and preferences of the next Hegarty generation led to removing stock and preparing the land for sale, which became a three-year plan. During this time, they researched their next move starting with visiting relatives in lifestyle communities in Toowoomba and Newcastle. In 2018 they discovered Latitude25 during a trip to Rockhampton and decided to visit.
Ticking the Boxes
For the Pat and Sue, the big selling points were the location, which was halfway between their daughter in Mission Beach and their son in Forbes, the perfect "not-too-big-city" size of Hervey Bay plus all the handy facilities, and amenities just a stone's throw away.
They were so impressed they joined the Latitude25 Priority Register List in 2019 to be first in line on information on blocks within the community, which they ultimately secured and moved in November 2020.
"We love the big garage as we have a caravan and have done some traveling around and we're planning more," said Pat. "All our friends had their RV in their paddocks. Plus, we have room for our small car and a tools area. We downsized from the land, but I still like to have my tools and a place to work."
The Transition to Staycation Life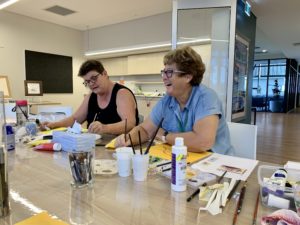 Moving from the remote country to a lifestyle community environment was a major change for the Sue and Pat. And, whilst Pat was never a big people person, he is loving the change of environment and Sue, a former schoolteacher, is loving all the social outlets. At the same time, they are happy that when they close their door, they enjoy the sanctuary of their own private space with the freedom to do what they want whenever they want.
The biggest lesson to date, they say, is that it's ok to say no. With so many opportunities to be social they can pick and choose as they like.
"The move from remote land to the community has been refreshing for me," said Sue.
"We arrived not knowing anyone, but it's been so easy to make friends through activities and I have taken advantage of the social activities including water aerobics, art and lawn bowls. We also really enjoy being around a community of likeminded, fit and active people."
Gone are the days of traveling 25km to nearest neighbour and struggling to get a caretaker for property if they needed to get away. Now Pat and Sue love the freedom to get up and go easily and the peace of mind of security that the gated community provides.
New Nest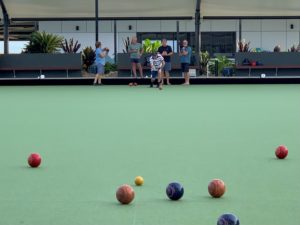 Sue is particularly pleased with the lovely new home and the opportunity to start fresh with everything new.
"We have a lovely outlook from our alfresco out to green areas and the lake beyond. Plus, the ease of doing everyday things at a moment's notice, such as going to movies in town or practicing lawn bowls on the purpose-built greens whenever they want as they have joined the Urangan Lawn Bowls club. For Pat, it is nice to maintain the active lifestyle he had working on the property in the convenient state-of-the-art gym."
Grandparents Haven
With all the conveniences and amenities in their new community, Pat and Sue took advantage by inviting their entire family together for the first time at Christmas. Their children and grandchildren were thrilled to experience the swimming pool and facilities.
"We loved having everyone together for first time and having so much to do at our fingertips. We all enjoyed the pool and the family atmosphere that is encouraged and fostered. No one treated it as a nuisance that our five grandsons were visiting, and we loved seeing others out and about with their grandchildren.
We like the change of climate as well," said Sue. "The cool breezes are a nice change from the extreme heat on the land. And it feels like we're on holidays all the time. We loved our old life, but it's time to live a new life and make the most of it and enjoy it!"
"We would recommend Latitude25 highly to others as it's a wonderful lifestyle with security for peace of mind in a community of like-minded people."