In a sport-obsessed country it's no wonder that pickleball has been embraced whole-heartedly in Australia! For those new to the sport, here's everything you need to know about this sport that is considered one of the fastest-growing sports (reportedly 3 million+ pickleball players to date)!
Quick History of Pickleball
Described as a cross between tennis, badminton and table tennis, the sport was created in 1965 by a group of friends in Bainbridge Island, Washington.
Eager to play badminton one afternoon, but unable to find a shuttlecock, they improvised by grabbing some table tennis paddles and a wiffle ball and lowering the net on the badminton court.
Pickleball is played with a perforated plastic yellow ball known as a wiffle ball. (Source: Wikimedia Commons: Stephen James Hall)
While the inventors — Joel Pritchard, Bill Bell and Barney McCallum — initially thought it would predominantly keep the kids entertained, it proved ideal for young and not-so-young players alike.
Pickleball Rules
The rules of pickleball are predominantly the same as tennis or badminton
Scoring is most similar to badminton — so you can only score a point while serving
The ball has to be hit three times before it can by volleyed (hit before it bounces)
You cannot volley the ball while standing in the area closest to the net (called the kitchen)
Serving must be underarm
With its all-ages appeal, small court and slow-moving ball anyone and everyone can play. There is also a growing elite level of the game!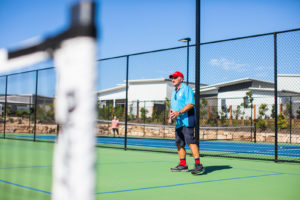 Pickleball Down Under
An ABC profile on Gabi Plumm, president of the Pickleball Association of Australia, explored how the sport came to Australia. She learnt the sport while visiting her son Morgan Evans in the US. Evans won the 2016 US Open Pickleball Championships.
"[He] said 'I think you should do this because it will be easier for you to play than tennis' which is very true," Ms Plumm said. "It's such an easy game to learn," she said. "It is possibly one of the easiest games in the world to learn. "Within 10 minutes you're on a court playing with people who have been playing for some time."
Sounds Interesting?
You can learn about joining a league in Australia and watch a tutorial on the sport at https://www.pickleballaus.org/.
The Pickleball Australia Association (PAA) was established in January of 2020 and is a volunteer not-for-profit organisation focused on nurturing the growth and development of pickleball Australia-wide.
Or perhaps you want to start your own league?
Pickleball courts are popping up everywhere including Latitude25 Community where there are three brand new Pickle Ball courts! These are welcome additions to a long list of amenities within the community keeping them happy, healthy and active! Latitude25 has a state-of-the-art $3.5M Health Hub as part of its amazing lifestyle community, which combined with its newly completed full-service, spanking-new clubhouse, is just another reason residents love to call Latitude25 home.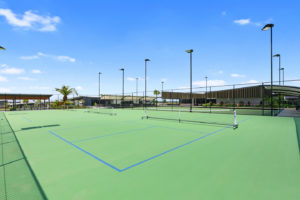 Learn more about Latitude25 at visitlatitude25.com.au or call to organise your own personal tour – virtual or in person – call Jane on 1800 025 025 or email info@visitlatitude25.com.au and don't forget to ask us about our 2 Night Stay offer!