The freedom of a caravan has never been more enticing. After a year of restrictions and pottering around home, it's time to hitch up the caravan for some adventures.
And no one needed COVID-19 to tell us that avoiding the crowds provides a somewhat more satisfying journey. Make sure your next itinerary includes time to explore under-the-radar Australian destinations – from outback towns and pristine coral reefs to isolated beaches.
Start with the Right Plan
Save the marriage and start by mapping your journey! Arguing over the right way to go is a major cause of holiday (and marital) breakdown so don't rely on the mapping app on your phone – invest in a good GPS. With the right plan, you can eliminate wasting time on being lost and leave plenty of time for stops to explore out-of-way areas and meet other nomads along the way. Another excellent resource and inspiration for an "off the beaten track" trip is Latitude25's handy "Making Our Way" journeys up the Eastern Coast of Australia. The map contains an itinerary, tips on hot spots and handy information on caravan parks. (insert links to map journeys).
Have a Chat
Australia is famous for its beautiful beaches and has 35,877km of coastline – and that's leaving Tasmania out! You'll find the best beaches are further away from the road stretching from Cairns to Sydney. That said, you won't have to venture far to find a beach devoid of umbrellas and towels – Try striking up a conversation at the local fish and chips shop and ask where to go for a real slice of heaven on the sand.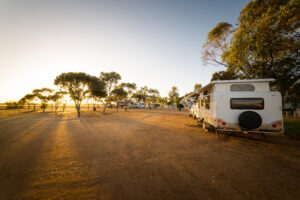 Park It!
If national parks are your bag there are 870 National Parks to choose from in Australia, covering more than seven million hectares of land. Protected areas cover more than 11% of the country, so visitors are spoiled for choice. But, where do you start? For an Eastern itinerary in the Cairns area visit the awe-inspiring, 130-million-year-old Daintree Rainforest and the Glass House Mountains near Brisbane. For Victoria, consider Wilsons Promontory. If you're after the biggest national park then Kakadu, in the Northern Territory is the place to see 68 mammals, Aboriginal rock art.
Make a Soft Landing
It's wonderful to have a soft landing planned for your itinerary and the warm caress of Hervey Bay, a fantastic winter destination to explore beaches, nearby national parks and meet other like-minded caravanners.
And, if you're looking to make a move to suit your lock up and leave lifestyle, then consider killing two birds with one stone by visiting Latitude25 in Hervey Bay, QLD. So with Fraser Coast on the itinerary, you can explore the area and take advantage of Latitude25's complimentary two-night stay at one of Hervey Bay's Beachfront Caravan Parks followed by a tour and talk about Latitude25 – the newest fully planned over 50s lifestyle and secure gated community in sunny Hervey Bay that is fully RV-catered. You can learn more at visitlatitude25.com.au/roadtrip or call us on 1800 025 025.