Despite the COVID-19 pandemic crisis, Latitude25 continues from strength to strength on sales of homes in its luxury RV lifestyle community. As retirees continue to make decisions about their future homes, they are appreciating what Latitude25 has to offer.
Whilst the travel aspirations of the Grey-Nomads have been temporarily curtailed due to the pandemic, Latitude25 is recording an increase in online activity with time spent on the website significantly higher than previous months and years.
"Having 'buying process flexibility' and access to detailed information online are two strengths of Latitude25 and are immensely successful in the current climate," said Ryan Williams, Development Manager, Latitude25. "Our lifestyle community continues to attract new buyers including five deposits on our latest home designs that were released in late March and early April to our Priority Register Members and VIP Database."
Why are They Buying?
A survey conducted with new home buyers in Latitude25 found that the appeal of living in a lifestyle community with like-minded people is highly desirable – especially in these turbulent times. One resident attributed it to "amazing staff, beautiful home, new friends, fantastic clubhouse and more to come."
Other factors attracting prospective buyers are: the security of community, the quality-designed homes with generous spaces, post COVID-19, the future use of the new Clubhouse and the Health Hub facilities nearing completion and the attractive flexibility of payment options allowing buyers to customise their payments to individual needs.
The highest validation for Latitude25 is referral and their highly satisfied residents are inspiring others to explore the unique benefits of a Latitude25 lifestyle.
Savvy Online Tours
Sales Manager Jane Giuliano has already received a deposit for a home after conducting an online FaceTime tour of the homes and facilities – including use of a drone to provide a "next level" tour of the community. Latitude25 is ready to provide any interested buyers with an online tour and an easy face-time phone consultation.
Committed to Delivery
Latitude25's Builder is taking government health recommendations seriously and has put in place measures to continuously work through this period to safely deliver on the ground.
"We normally have more than 60 contractors, tradies and suppliers on site to deliver infrastructure to our current and future residents. We are one of the busiest developments in Hervey Bay with new homes and a new state-of-the-art multimillion-dollar Health Hub to be delivered in Spring this year," said Wayne Ahrens, Regional Manager PBS Building QLD.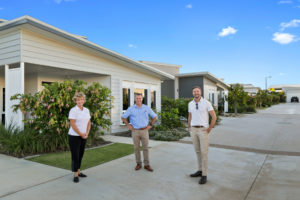 About Latitude25
Latitude25 is specifically designed for active RV enthusiasts who are passionate about setting up their home base in beautiful Hervey Bay.
This $140-million-dollar gated community development encompasses two magnificent lakes, green landscaped areas with meandering walkways and picnic areas, plus a state-of-the-art Clubhouse and currently under construction the multimillion-dollar Health Hub facility consisting of indoor and outdoor amenities including pool, gym, lawn bowls, tennis court, pickle ball, golf chip and putting green, as well as a virtual golf room and more.
An exclusive address focused on privacy and fun, each spacious home features an over-sized garage to accommodate an RV, Caravan, boat and other lifestyle toys and hobbies, as well as a vibrant social calendar that will never leave you short on entertainment.
Latitude25 offers luxury living with the perfect position, amenities and security, for that quick getaway with total peace of mind.
The resort-style facilities feature efficient solar-powered energy and zero exit fees, this exciting and innovative neighbourhood is destined to become a Hervey Bay icon.